Recollections of
the 2003 JAMfest

Concert review by Chalda Maloff
E-mail: cmaloff@medium-S.com

---

When I am in my element, in the visual arts, I often ascribe to the view that an artwork should stand on its own merit, without introduction, without explanation. But I have cause to reconsider when I find myself outside of my mental comfort zone. A case in point is my journey with Terra Verde and Ragtime. I have enjoyed this music deeply but, lacking an intellectual framework for it, I have had the nagging suspicion that perhaps I was missing out on a more satisfying listening experience. And so, after nearly four years of taking pleasure in this captivating genre, I was ready, if not quite yet for dancing about architecture, for some talking about music.

At the recent "JUMP! JIVE! & JAMfest!" in Texarkana (*), Scott Kirby's lecture on Scott Joplin was a welcome step in this direction. Undertaking a two-hour lecture in spite of lingering effects of laryngitis, Kirby gave a presentation that was thoughtfully conceived, rigorously researched, and above all highly accessible. It contained a constructive mix of cultural backcloth, quirky fun facts, and Joplin's personal life history. Kirby interspersed the talk with several excerpts of piano music, and with a few works in their entirety. Among these was a stirring and finely detailed interpretation of Bethena, all the more touching in the context of the troubled times in which Joplin composed the piece.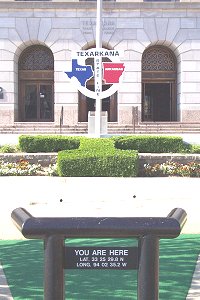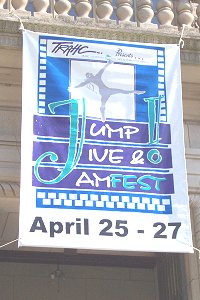 Photos © 2003 by Russell Zears.
The event was a very special opportunity to gain an orientation in Joplin's music, edifying to those of us still getting our landlegs in the world of Ragtime, and stimulating also to those in the audience who were apparently better versed. It was a creditable tribute to a man who composed music of such consequence, and who was buried with an unmarked tombstone.
Later the same day, Kirby gave a second presentation, this time in more traditional concert format, with music having roots or outgrowths in Ragtime. Charleston Rag was an audience pleaser, as was Sunflower Slow Drag.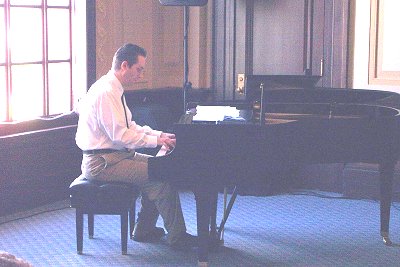 Photo © 2003 by Russell Zears.
The multi-textured interpretation of Lisette had been quite significantly reworked from the more rhythmic version at the Rockyfest last July, and from a hauntingly melodic interpretation in Austin a couple of years ago. As always, Kirby acknowledged the Etcetera String Band as his source material for this piece, though it would seem he coaxed considerable subtext from that rendition. (I have often smiled when browsing the CD insert and seeing the disclaimer, "contains some improvisation not found in the original.")
The evocative Ravenna, the only of Kirby's original compositions in the line-up, was prefaced with a few words on the inspiration for the piece and its title. I have often admired and appreciated Kirby's givingness in sharing the emotional origins of his compositions, in the CD inserts and in presentations. These insights lend an extra dimension to the listening experience.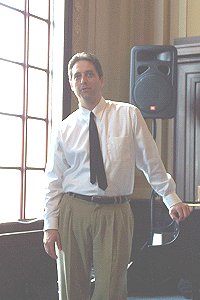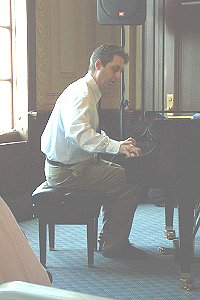 Photos © 2003 by Russell Zears.
The playful and passionate Indifference, so difficult to reconcile with its title, was engaging as always. Kirby's various retellings of this work have been rich with subtle shifts in emphasis and intonation, ever keeping the listener agreeably off-balance.
Audience reception to the concert was enthusiastic. There were some definite "where's this guy been all my life" reactions from people who seemingly had first wandered into the hall just to escape the outdoor heat.
I cannot close without commenting on the graciousness of the JAMfest people, who surpassed the call of duty in assisting us confused out-of-towners, and in making us feel welcome. We Texans have the reputation of being ridiculously friendly and helpful, but these folks didn't know when to quit!
Warm regards to my fellow TVSers,
Chalda Maloff
---
(*) The 2003 JAMfest was held in Texarkana, between April 25-27, 2003. Scott Kirby gave two concerts on Saturday the 26th, at the Regional Art Center, first at 11:00 AM, and then again at 3:30 PM. The morning concert was entitled Remembering Scott Joplin, while the afternoon session was just listed as Concert. [Webmaster's note]