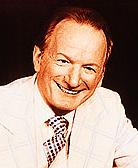 Max Morath was born on October 1, 1926 in Colorodo Springs, Colorado. Though himself born after ragtime's decline, Max learned to play it from his mother who had been a professional ragtime pianist. He was a radio and TV-actor, writer, announcer and general entertainer before he devoted his career to ragtime. It was while playing the period music for off-fashioned melodramas in the West that he became fascinated by it, and soon began playing it in cabarets, as well as re searching every facet that he could find.

A producer for National Educational Television caught Max Morath, proposed that he turn his knowledge of the time into a series. "The Ragtime Era" show (1960) dealt with the development of the music of the period, and critics across the USA gave wholehearted approval. The success of "The Ragtime Era" led to another NET series, "Turn of the Century", in which Morath turned toward the social history of the time, as reflected through its music. His first live appearance in New York at the famed Blue Angel was followed a year later by a stint at the historic Village Vanguard. In 1969 he set up the "Max Morath at the turn of the Century" show at the Jan Hus Playhouse in New York City. Again, the critics were impressed with his seemingly offhand, colloquial approach to history. The success led to a tour in theatres and colleges across the USA.

By composing beautiful rags; by writing and performing in memorable television series; by dispensing the classic syncopation and singing the raggy songs in night clubs, theatres and colleges; by his numberless TV guest appearances (Today, Tonight, Bell Telephone Hour, etc.) and his perennial star guesting with Arthur Godfrey on radio; by editing and publishing choice folios of ragtime old and new (e.g. "100 Ragtime Classics") and recording it (for Epic, RCA, Vanguard and Omega) both solo and with ragtime groups of his own (for example Max Morath's "Original Rag Quartet" together with Jim Tyler, banjo, Al Morris, guitar and Bill Turner, bass) - Max has recommended himself as the ambassador for ragtime! Rudi Blesh has called him a "one-man ragtime army"!

Surely, by now, almost everyone in America has seen or heard the colourful Gay "Nineties entertainer of the gray derby, belt-back jacket, and sleeve garters, of the Edwardian vest and the ever-present "seegar", in his congenial role of "Ragtime Professor".