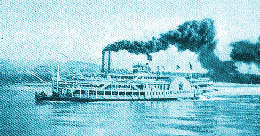 In the 1880's, a farmer named James Parker lived a few miles east of Cincinnati, Ohio. He came to realize that his apple orchard, in a scenic spot on the riverbank, earned more money when he rented it out for church picnics and other excursions that it ever could by growing apples. So in 1886 he sold the land to a riverboat company, who opened it as "Ohio Grove, the Coney Island of the West." An advertsing poster from that year boasted that the grounds were lighted by electricity, and proclaimed it "The Most Beautiful All-Day Summer Resort in America." The steamboat company ran four round trips a day between Cincinnati and "Coney Island," as the park came to be known. The total price (in 1886) was 50 cents, including admission to the grounds AND round-trip steamboat transportation. Coney Island finally closed its gates in 1971, to be replaced by the more modern Kings Island amusement park the following season.

By 1905, the steamboat company had become The Coney Island Company. That year, they purchased the 12-year-old steamboat "Saint Joseph" from owners in Mississippi, had her re-fitted, and re-named her the "Island Queen." For seventeen years she ran the several daily round trips between the Cincinnati levee and Coney Island. There was entertainment on board the steamboat as well, for this is the "Island Queen" on which "Chimes - A Novelty Rag" by Homer Denney and "The Queen Rag - March and Two Step" by Floyd Willis were played on a daily basis.

As was the case with so many of the old wooden steamboats, she met her end by fire. The "Island Queen," along with the "Morning Star," the "Chris Greene," and the "Tacoma" all burned in a spectacular blaze at the Cincinnati levee in November, 1922.

This grand old boat was succeeded by a second "Island Queen," built in 1925 on a steel hull originally intended for the steamer "Louisville," which was never built. The second "Island Queen" continued in daily Coney Island service until 1947, when her fuel tanks exploded during refitting work in Pittsburgh, with the loss of nineteen lives. A near-twin to the second "Island Queen" is still afloat. Originally named the "Cincinnati," this boat was re-fitted and re-named, and made her debut as the "President" in 1934. Re-fitted once again in 1991 as a floating casino, the "President" is now moored at Davenport, Iowa.